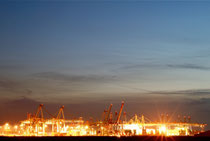 This is the harbor here in Hamburg, as seen from St. Pauli / Altona. The Germans call this "Industrieromantik" - the romance of industry.
I've been out of the US, my home country, for 10 years now. A decade of living among foreigners - people who by default have a different outlook than your own. If you live where you grew up, mostly, than start the imaging process by picturing sitting in a thatch hut in Zimbabwe. Just for starters, like. And I promise I don't know what Zimbabwe is really like. But it's different, for sure.
If you've lived elsewhere for a long period of time, you probably already understand what I mean. If you haven't - you might not. So for a minute, put on your imagine glasses and try and picture this.
As an American, you can basically count on everyone understanding you. Not only the language you speak, but also the references you make. Flintstones? Yabba Dabbo Do! Monica Lewinksy? The cigar! OJ, Transformers, shock and awe, Kibbles and bits and bits and bits - we grew up with a very similar set of input, despite all the differences.
But these references only work within a culture, meaning North America or maybe also some Americanophile Brits and Europeans. In terms of the world, though - they say nothing. They're not funny, they're not astute, they're just blah. No one else cares.
---
Returning to the country where you grew up is easy. The language you already know, the people, too. For a brief time you can lay off thinking around the corner all the time ("Is this how they do things around here?"), and just be yourself.
I love American fast food. Just love it. I'm not a fast food fan in general, but give me a big old cheese covered burrito, chips on the side and lots of duotone salsa, and I'm a happy man. I like the pizza and I like the falafel. I like fusion cooking and I like all kinds of California cuisine. Today I ate vegan Japanese food, and it was a wonderful experience.
But the thing about time and culture is - it grows, it changes. When I came back to the US this time, it was to San Francisco, and to a world that is as strange in some ways as any I've visited.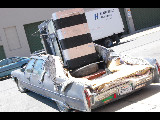 This is how San Francisco welcomed me.
The difference between Hamburg and San Francisco is not quantifiable - it's so basic, it's as if the word 'city' doesn't apply to both places.